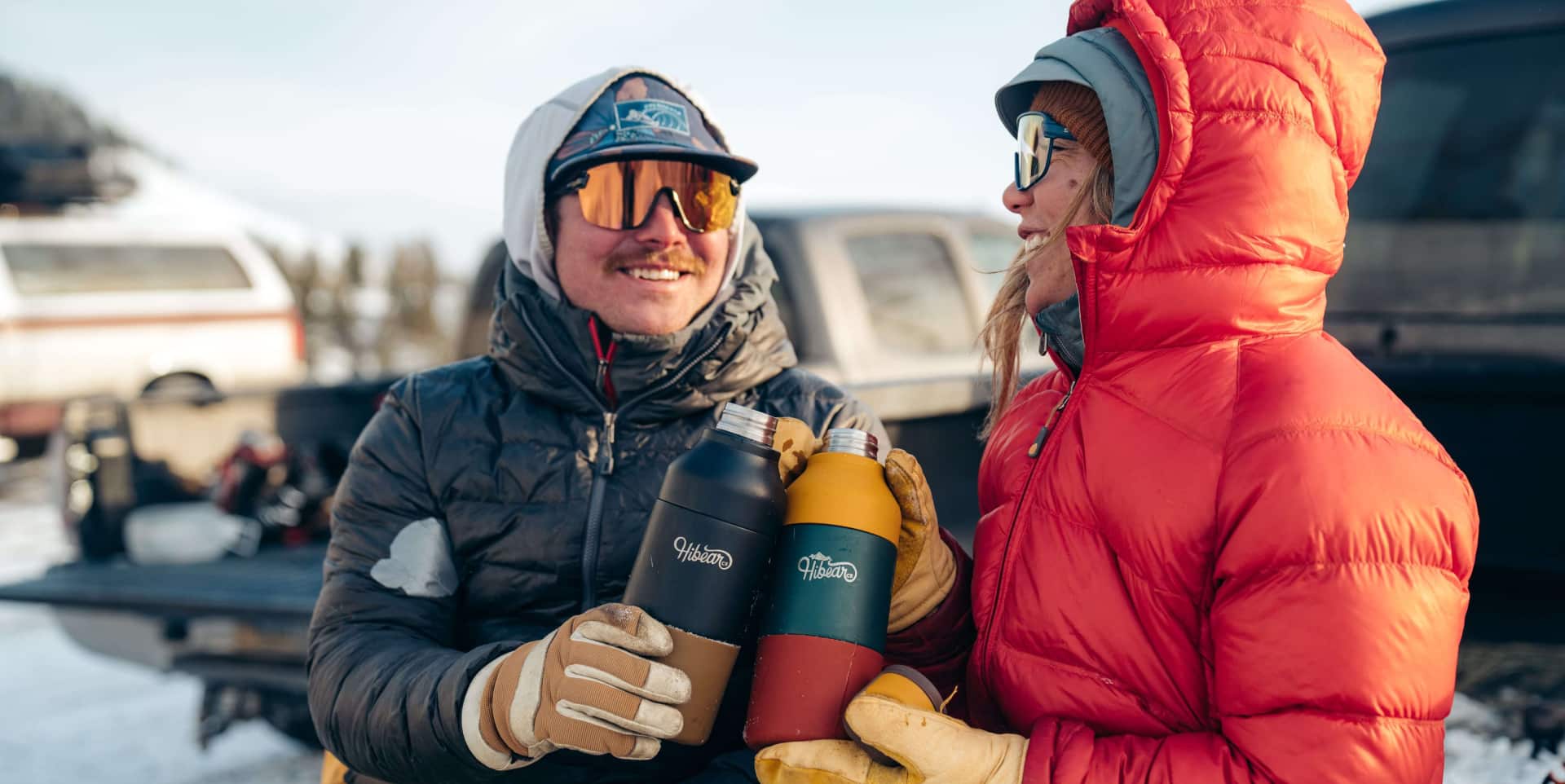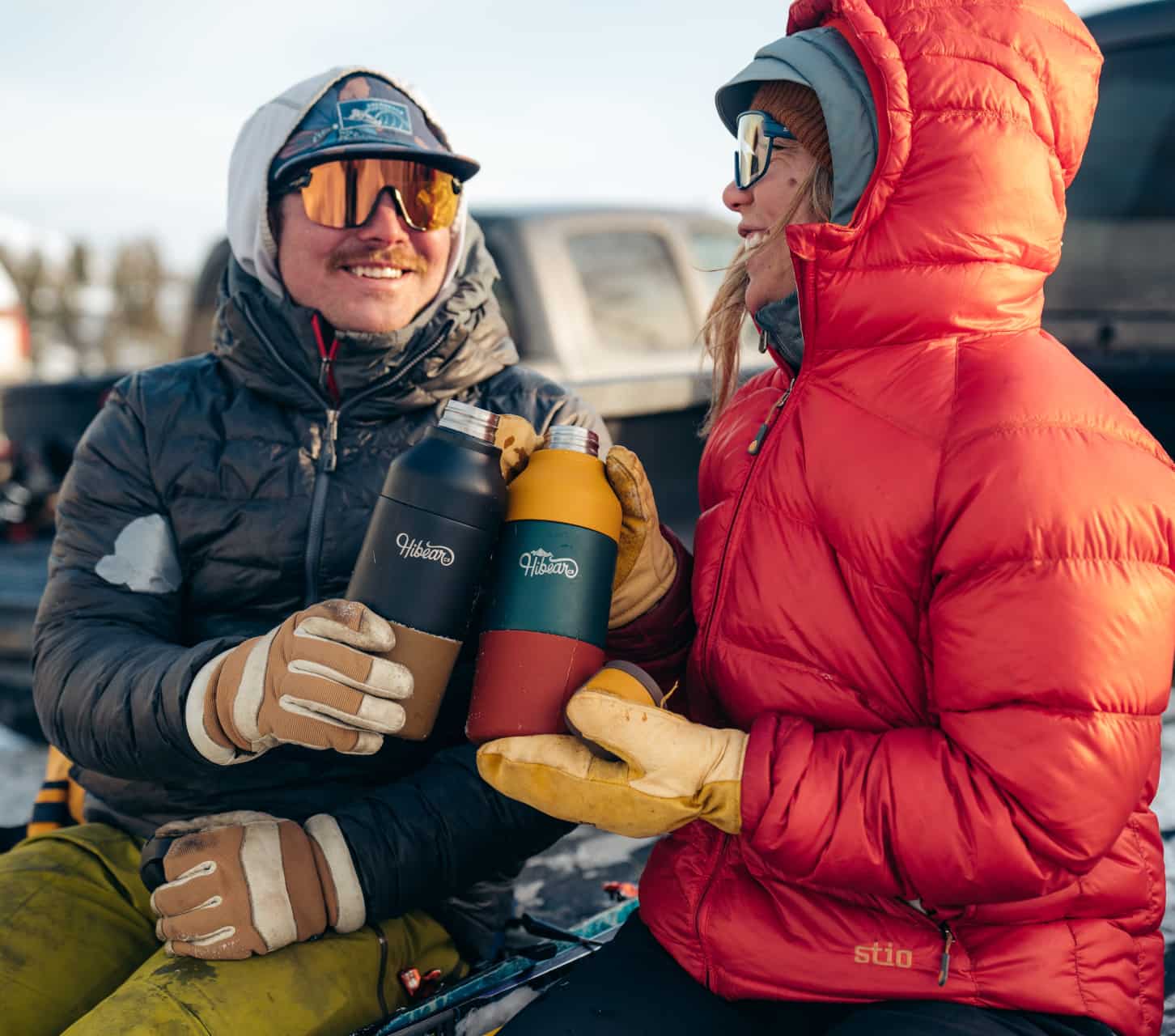 Frequent Questions, All-Day Answers
Use and Care for your AF
What beverages can I make with my All-Day Adventure Flask?
Pourover coffee, teas, cold brew, cocktails (you can get creative here!), the list goes on! It also holds water, beer, wine, (really whatever liquid you can dream of) really well.
Is my Hibear AF dishwasher safe?
While your trusty Hibear All-Day Adventure Flask may boast of its dishwasher-safe prowess, we suggest treating it to a luxurious spa-like experience in your sink for optimal long-term satisfaction. A relaxing soak in hot, soapy water and the gentle caress of a long-handled soft bristle brush should do the trick. 
If you are really in a jam, bring out the big guns. Hydrogen peroxide can be used to clean your AF and combat lingering smells. Here are the steps to follow:
Fill the bottle with hydrogen peroxide: Pour enough hydrogen peroxide into the bottle to fill it up to about a quarter to a third of the way.
Let it sit: Screw the lid back on the bottle and let it sit for at least 30 minutes to allow the hydrogen peroxide to work its magic. This will help to break down any dirt, grime, or bacteria that may be present.
Scrub the bottle: After the hydrogen peroxide has had a chance to work, use a soft-bristled brush to scrub the inside of the bottle. Focus on areas with buildup or stains.
Rinse thoroughly: Once you've scrubbed the bottle, rinse it out thoroughly with warm water to remove any remaining hydrogen peroxide or dirt.
Dry the bottle: After rinsing, dry the bottle completely with a clean towel or let it air dry.
Your AF's lid, cap and cocktail shaker: they're not only a breeze to hand wash, but they'll also happily ride shotgun on your dishwasher's top rack. Just remember that subjecting your flask and its fancy finishes to extreme water temperatures and the wild world of dishwashers may lead to wear and tear over time. So, pamper your AF, and it'll be your Adventure companion for many years to come.
Can my Hibear go in the freezer?
Nay! Subjecting your insulated Hibear to the icy clutches of freezing temperatures is a no-go. It could compromise its insulating superpowers (and with its vacuum seal, it's not getting cold on the inside, either). But fret not! For the chilliest of beverages, simply invite some ice cubes to the party, and your Hibear will ensure you enjoy every frosty sip.
Can my AF hold carbonated beverages?
Sure, can. If ask our friend David Rule, he'll say he's packing in Lacroix all day. But we prefer beer, to each their own.
The inside of my Hibear has developed stubborn stains. How do I safely remove them?
Yes there are a number of different methods to try
Pour a solution of white distilled vinegar and warm water (1:5 ratio) and let soak for 10 minutes
Create a paste with baking soda and warm water and gently scrub the paste directly onto stains with a soft-bristled brush
See above under dishwasher safe and try those out
a cleaning tablet from Bottle Bright
My AF has some white patches on the powder coat, Is this normal?
Post-dishwasher rendezvous (though, for the sake of your flask's longevity, we do endorse a good ol' fashioned hand wash), you might spot some white blemishes on your Adventure Flask. Fear not! These are merely mineral deposits from the water it encountered. To banish these pesky spots, brew a potion of boiling water and, with caution, pour it over the marks. Voilà! Your flask is back to its dazzling self.
What beverages can I make with my All-Day Adventure Flask?
Pourover coffee, teas, cold brew, cocktails (you can get creative here!), the list goes on! It also holds water, beer, wine, (really whatever liquid you can dream of) really well.
Could you use this as a growler for beer?
Yep! The All-Day-Adventure Flask handles carbonation great. You can even decant red wine with it.
About your AF
What are the volumes of the various parts of my Hibear?
Total Volume: 32oz/950ml
Flask Body Volume: 25oz/750ml
Lid Volume: 7oz/200ml Lid
Steel Filter Volume: 12oz/355ML
Stainless steel filter: 12oz/400µ
Removable Mug volume: 8.5oz/250ml
What are the dimensions?
Total Height: 11"/283mm
Width: 3.7"/94mm
How much does it weigh?
29oz/828g complete 
23oz/653g w/o components
How is the Artist Series different?
Besides coming in a more robust color pallet than the Seven Summits Series, it has exclusive rad artwork under the silicone sleeve from the Artist. It has all the same functionality as our other classic versions. 
What is my Hibear made of?
Crafted from 18/8 (that's 18% chromium and 8% nickel, for you chemistry enthusiasts) medical grade stainless steel, this baby is as sturdy as they come. And let's not forget the silicone sleeve, which is—well, silicone.
As for the lids, they're constructed from BPA-free polypropylene #5, and our Cocktail Strainers are made from Tritan™. In layman's terms? You won't find any harmful chemicals or health risks lurking about. No bisphenols (BPA, BPS, etc.), estrogenic activity (EA or estrogen leaching), or androgenic activity (AA or testosterone leaching).
Of course, all Hibear AFs are dressed in a durable powder coating, ensuring your Adventure Flask remains the belle of the ball (or, you know, a wilderness hike).
Buying and Shipping
How do I place a request for a custom bottle project for my company?
Quite easily, my friend. Head to our B2B page, fill out the form on the bottom of the page and we will get back to you with a quote. We can add a logo to the AF or create a full custom bottle. The power is in your hands!
What is the airspeed velocity of an unladen swallow?
What do you mean? African or European swallow?
What is your shipping policy?
Orders are shipped Monday - Friday and will ship through various methods based on your distance from our warehouse. We typically charge a flat rate for shipping and will receive a tracking link via email when your order ships.

U.S. Expedited shipping is available at an additional cost and is calculated at checkout.
Alaska & Hawaii: Please do not rely on standard or expedited shipping to arrive on time to AK or HI. Shipping costs vary and will display at checkout.
International: We do that! Canada, UK, France, and Germany. How about Austrailia and Japan, we ship there too.
Who would you recommend this bottle for?
If you dislike travel, trees, tents, RVs, mountaintop vistas, surfing long lefts, skiing steep and deep, running far, climbing high, sunsets, sunrise fly casting, and puppies, then this isn't for you. But if you love to celebrate the summit, relax by the campfire, enjoy making a pourover or shaking a cocktail, or just want a solid everyday water bottle... 10/10 would recommend.
Can I order additional // replacement silicone sleeves?
Yes! Spice up the look of your bottle with different color choices too. The three colors that come in the pack are Its On-Range (orange), Night Hike (black), California Gold, and Pour Decision (mauve).
What if I have an issue with the functionality of my bottle?
Let's get you sorted! If you have a warranty issue, we want to know about it and help you out as soon as possible! Please head to our Returns and Exchanges page, link is in the footer below